Hotel restaurant in altitude (700 m), near Colmar and Kaysersberg, our establishment is a gastronomic stopover suitable for groups, motorcycles, bicycles, walkers and coaches. We welcome groups for a pleasant lunch break in our restaurant with a view of the Alsace plain and the Galtz statue.
The hotel-restaurant "Au Tilleul" located in the heart of Labaroche, ideally placed for visits to surrounding museums, such as: the woodworking museum (200m), the Linge memorial (15mn drive), the eaux de vie – Miclo distillery (15mn drive) …
Over three generations, it has become, with its 30 rooms and a capacity of 100 guests, a safe bet in the region.
Hotel
We also offer groups and coach operators to take a relaxing break in our standard or superior rooms by staying there on a half-board basis.
We offer advantageous half-board rates and grant 1 free for 40 paying guests.
So that your stay in Alsace is very pleasant, we wish to bring you ideas in order to create or refine your program of outings and visits in our region.
We put at disposition :
Free private parking for Buses and hotel guests
Bike / Motorcycle parking on request
Elevator
Free Wi-Fi connection
Access for people with reduced mobility
Make a request via our contact page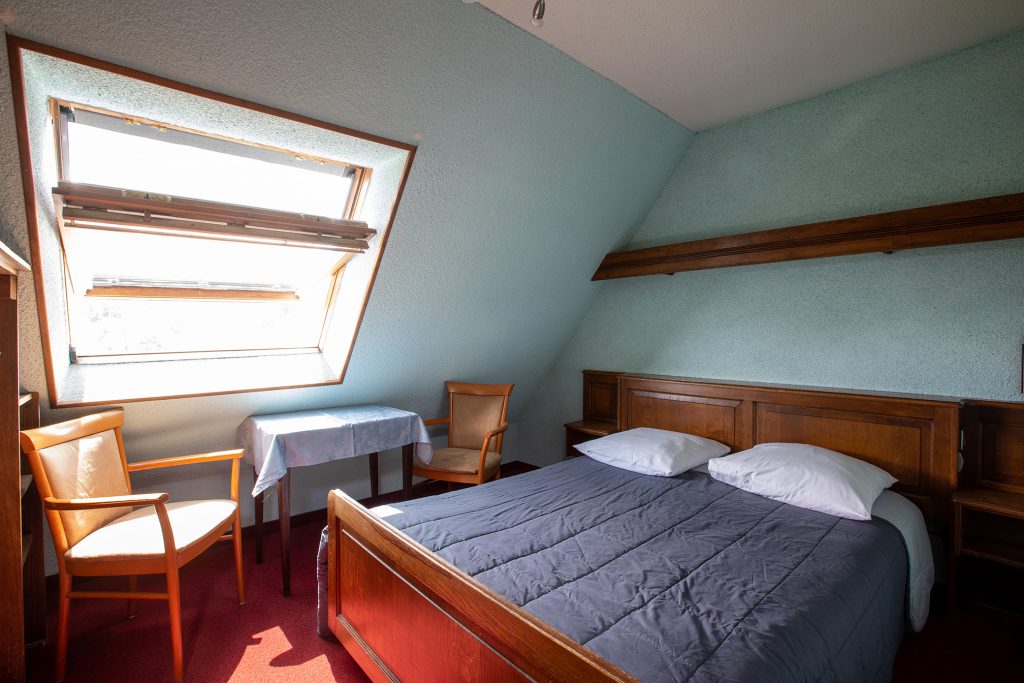 Restaurant
We have an air-conditioned room with a capacity of 80 people, and a private room that can accommodate up to 26 people. You will taste traditional, creative and refined cuisine in a calm environment conducive to relaxation.
We offer you the development of menus with / without drinks adapted to your desires and your budget.
The chef also offers a choice of special menus for events such as: birthday, baptism, communion, family reunion, professional meeting …
All our dishes are homemade
---
Menus à partir de 30 personnes
MENU 20,00€
Choucroute garnie
Munster fermier du pays Welche
Sorbet citron arrosé
***
MENU 21,00€
Aspic de volaille et légumes
Rôti de porc farci, mousseline de pomme de terre et légumes
Mousse au Kirsch d'Alsace
***
MENU 22,00€
Tarte à l'oignon, salade verte
Civet de marcassin, spaetzlés et légumes
Verrine forêt noire
***
MENU 23,00€
Preskopf sauce gribiche et salade
Bouchée à la reine, spaetzlés et légumes
Tarte aux pommes à l'alsacienne
***
MENU 24,00€
Pâté en croûte et ses crudités
Pavé de sandre sauce Riesling et ses nouilles « Grand-Mère »
Vacherin glacé vanille-framboise
***
---
Menus à partir de 8 personnes
MENU "RECETTE DE MA GRAND-MÈRE" 19.50€
Bouchée à la reine, spaetzlés
Crumble aux pommes, glace vanille
***
MENU "ROUTE DES VINS" 21,00€
Choucroute garnie aux 5 viandes
Munster d'Alsace fermier
Sorbet arrosé
***
MENU "L 'ALSACE À TABLE" 24.50€
Pâté en croûte et ses crudités
Filet de sandre sauce au Riesling, nouilles au lard paysan
Kougelhopf glacé au Marc de Gewurztraminer
***
MENU "ESCAPADE GOURMANDE" 26,00€
Feuilleté de champignons frais
Collet de porcelet laqué au vinaigre de miel , pomme duchesse et petits légumes
Le sabayon gratiné de fruit frais
***
MENU "DÉCOUVERTE" 31,00€
Amuse bouche
Rillettes de canard et magret fumé maison
Risotto aux moules Bouchot assortiment de poissons grillés (Saint-Jacques, gambas…)
Paris Brest
***
MENU "L'INCONTOURNABLE" 34,00€
Amuse bouche
Rosace de saumon mariné aux herbes, crème de raifort, pain grillé
Filet de canette aux épices asiatiques, gratin dauphinois et légumes
Vacherin glacé vanille-framboise et fruits frais
***
MENU "EVEIL DES SENS" 42,00€
Amuse bouche
Marbré de foie gras de canard, confit de griotte, kougelhopf maison toasté
Noix de Saint-Jacques snackées, fondue de poireau et son émulsion safranée
Cœur de quasi de veau aux morilles, légumes et ses pommes dauphines
Barre glacée dacquoise amande, glace yaourt et sorbet framboise
***
Nos forfaits vins :        
– Kir cassis + café : 4,10 €
– Kir cassis+ 1/4 Côte du Rhône/Edelzwicker + café : 8,50 €
– Crémant + 1/4 Vieux Clocher/Pinot blanc + café : 11,50 €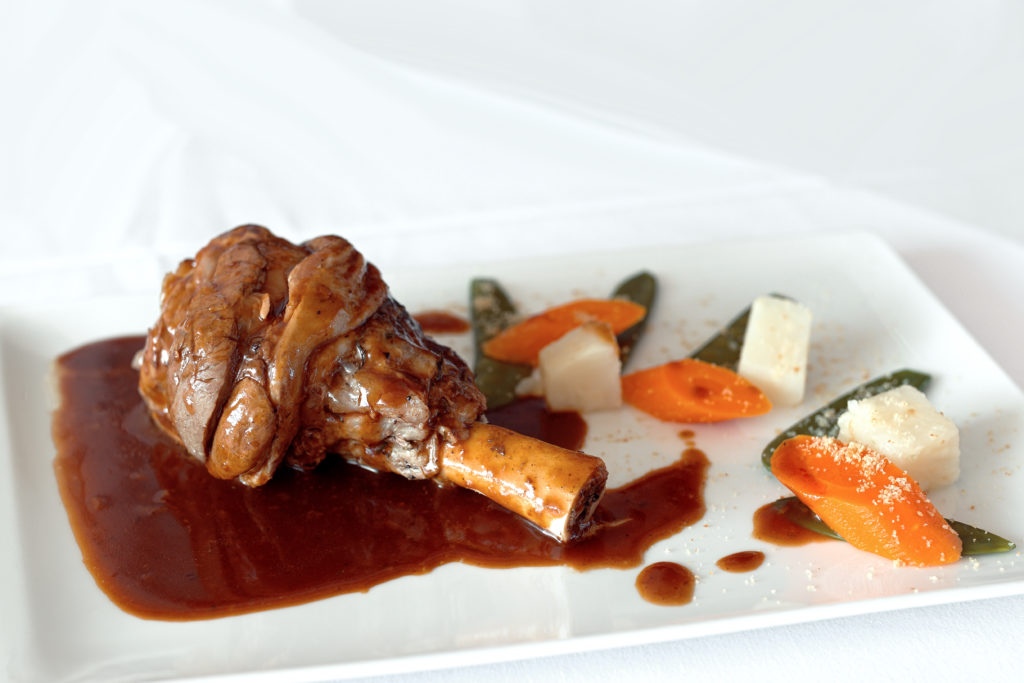 Any change in the quantity or composition of the dishes may lead to a change in price.
We remain at your disposal for any change in the composition of your menus (allergies, specific diet).
We grant free admission for every 30 people.
A 30% deposit will be requested upon booking.
The final number of guests of +/- 3 people may be changed in the three working days preceding the service, if necessary, lunches or dinners not honored will be invoiced in no-show.
We thank our kind customers for agreeing to honor our invoices immediately after their lunch or dinner.
Payments by check or restaurant ticket are not accepted.
Our prices are established on the basis of the VAT rates currently in force on January 1, 2019.
---
Pass'port Welche
In order to help you discover the Welche region, we offer a pack including visits to surrounding museums and a meal (two menu choices) in our establishment:
Traditions
Crispy Munster honey cream
Sauerkraut garnished with 5 meats Kougelhopf iced with marc de Gewurztraminer
Tilleul
Tomato gazpacho with basil ice cream
Duck leg confit with orange sauce
The famous crousti-choc
Drinks included include a Kir as an aperitif, 1/4 white or red wine, or 1/2 mineral water, as well as a coffee
Téléchargez le Passeport Welche