Hotel restaurant in altitude (700 m), close to Colmar and Kaysersberg, our establishment constitutes a gastronomic stage adapted for groups, motorcycles, bicycles, walkers and coaches.
We welcome groups for a pleasant lunch break in our restaurant with a view of the Alsace plain and the Galtz statue.
The hotel-restaurant "Au Tilleul" located in the heart of Labaroche, ideally placed for visits to museums in the area, such as: the museum of woodworking (200m), the memorial of the Linge (15mn drive), the museum of brandy – Miclo distillery (15mn drive)…
Over the course of three generations, with its 30 rooms and a capacity of 100 guests, it has become a safe bet in the region.
Hotel
We also propose to groups and bus drivers to make a relaxing stop in our standard or superior rooms by staying in our half-board formula.
We offer attractive half-board rates and give 1 free meal for every 40 paying guests.
In order to make your stay in Alsace as pleasant as possible, we would like to give you some ideas to create or refine your program of outings and visits in our region.
We put at your disposal :
Free private parking for buses and hotel guests
Bicycle / Motorcycle parking on request
Elevator
Free Wi-Fi connection
Access for people with reduced mobility
Make a request via our contact page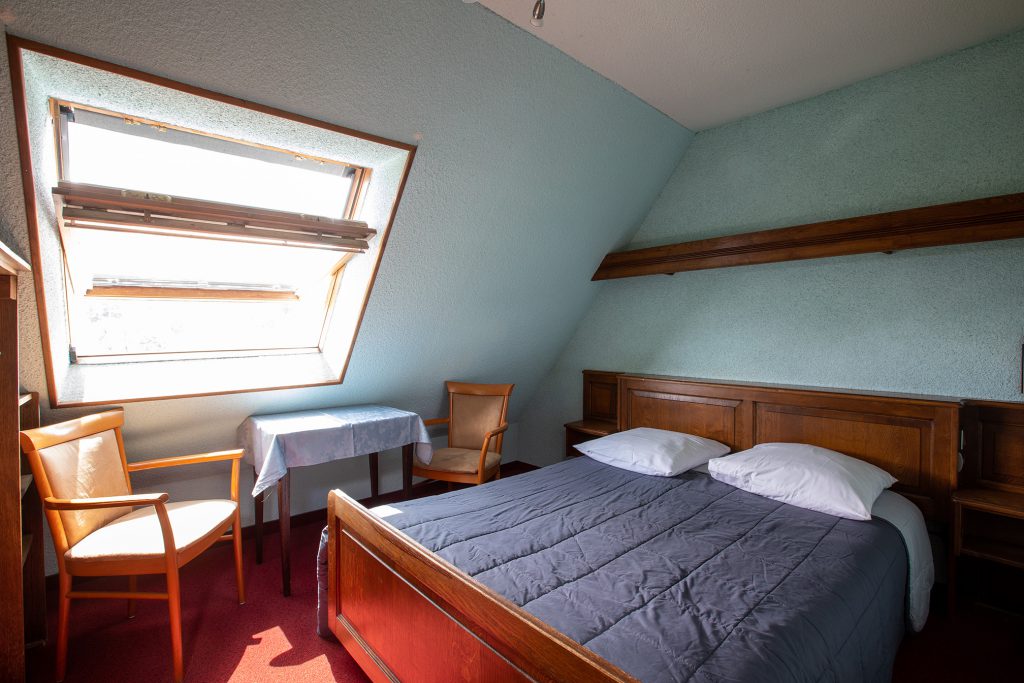 Restaurant
We have an air-conditioned room with a capacity of 80 people, and a private room that can accommodate up to 26 people.
You will enjoy a traditional, creative and refined cuisine in a quiet environment conducive to relaxation.
We propose you the elaboration of menus with/without drinks adapted to your desires and to your budget.
The chef also offers a choice of special menus for events such as: birthdays, christenings, communions, family reunions, professional meetings…
All our dishes are home made.
---
Menus from 30 people
MENU 21,50
Sauerkraut with filling
Farmhouse Munster from the Welche region
Lemon sorbet with water
***
MENU 22,50
Poultry and vegetable aspic
Stuffed pork roast with potato and vegetable mousseline
Mousse with Kirsch from Alsace
***
MENU 24,00
Onion pie, green salad
Wild boar stew, spaetzle and vegetables
Black forest glass jar
***
MENU 25,50
Preskopf with gribiche sauce and salad
Queen's Pie with spaetzle and vegetables
Alsatian apple pie
***
MENU 28,50
Pate in a crust with raw vegetables
Pike-perch steak with Riesling sauce and "Grandmother" noodles
Vanilla-raspberry ice cream vacherin
***
---
Menus from 8 persons
MENU "MY GRANDMOTHER'S RECIPE" 21.50
Queen's Pie, spaetzle
Seasonal fruit pie
***
MENU "ROUTE DES VINS" 23,00
Sauerkraut with 5 meats
Munster cheese from Alsace
Watered down sorbet
***
MENU "ESCAPADE GOURMANDE" 27,50€
Fish terrine, baby greens salad and cocktail sauce
Grilled yellow chicken breast with fresh mushrooms, gratin dauphinois and small vegetables
The sabayon gratin with fresh fruit
***
MENU "L 'ALSACE À TABLE" 29.00€.
Pate in a crust with raw vegetables
Pike-perch fillet with Riesling sauce, noodles with country bacon
Kougelhopf glazed with Marc de Gewurztraminer
***
DISCOVERY" MENU 34,00€.
Amuse bouche
Perfect egg, creamy potatoes with truffle oil, parmesan cheese tuile
Puff pastry fish casserole with saffron, squid ink pasta
Profiteroles with red fruits and yogurt ice cream
***
MENU "L'INCONTOURNABLE" 37,00
Amuse bouche
Herb-marinated trout rosette, horseradish cream, mixed baby greens and toasted bread
Duck fillet with orange sauce, gratin dauphinois and vegetables
Apple tart tatin with vanilla ice cream
***
MENU "EVEIL DES SENS" 46,00
Amuse bouche
Marbled duck foie gras, morello cherry confit, homemade toasted kougelhopf
Snacked scallops, leek fondue and saffron emulsion
Veal entrecote (cooked at low temperature) with morels, vegetables and hazelnut apples
Iced praline soufflé, red fruit soup *
* We can also offer you personalized cakes for an occasion in replacement of the proposed dessert
***
Extra charge for cheese assortment per person : 4.50€.
Our wine packages :
– Kir cassis + coffee : 6,50
– Kir cassis + 1/4 Côte du Rhône/Edelzwicker + coffee : 12,50
– Crémant + 1/4 Vieux Clocher/White wine + coffee : 15,50
Any change in the quantity or composition of the dishes may result in a price change.
We remain at your disposal for any change in the composition of your menus (allergies, specific diet).
We grant one free ticket for every 30 people.
A deposit of 30% will be requested at the time of booking.
The final number of guests (+/- 3 people) can be modified within three working days before the event. In this case, lunches or dinners not honored will be invoiced as no-shows.
We would like to thank our customers for honouring our invoices immediately after their lunch or dinner.
Payments by check or luncheon voucher are not accepted, our prices are established on the basis of the VAT rates currently in force on January 1, 2019.
---
Escapade in Welche country (group)
In order to make you discover the Welche country we propose a pack including the visits of the surrounding museums and a meal (two choices of menu) in our establishment:
Traditions
Crunchy Munster cheese with honey cream
Sauerkraut with 5 meats
Kougelhopf iced with Gewurztraminer marc
Lime
Pinot Noir Perfect Eggs in a Meurette Sauce
Queen's Pie, spaetzle
The famous crousti-choc
Drinks include a Kir as an aperitif, 1/4 white or red wine, or 1/2 mineral water, and coffee